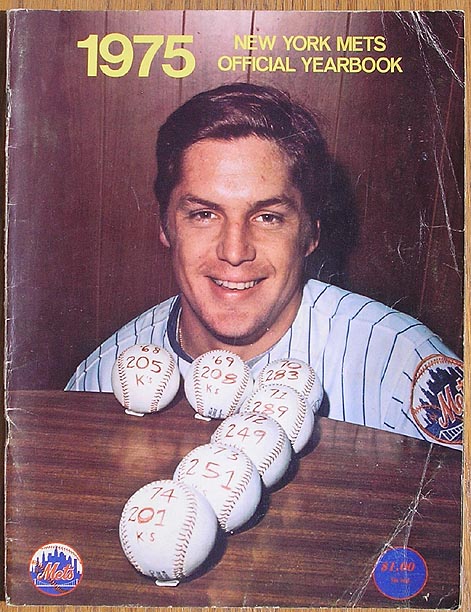 I'm sorry Edgy. I've had a very crummy past couple of months and this slipped my mind.

Here is the yearbook that I thought I had a duplicate of, but in fact, I have three! (maybe I got one three days in a row...)

If it is one that you need for your collection, of course you may have one, as my gift to you, as long as you don't mind that it smells a little cellar-y.

I dug these out last night, took them to bed, and flipped through all three of them to make sure one wasn't a revised edition or something, but they are all identical.

It's a beautiful yearbook, as they were back then, with a lot of wonderful local ads, pictures, and human touches.

If you decide you want it, look for these:

Dr. James Parks in tartan plaid pants

A very young Marty Noble, looks about 20-25

A very nice tribute to Ralph Kiner's HOF induction

Jerry Koosman and his fruit

Two page color spread on 1974 All Star Game

A whole lot of mutton chop sideburns

A Manufacturers Hanover bank ad: "Can't get to the bank by 3? Pitch your deposit in our after hours box!" No mention of needing a key, locked bag, or special contract with the bank.

Schafer Circle Of Sports beer ad on back page. Can looks just like the one laying in the woods behind my house. I really ought to rescue that before we move.

Yogi Berra, the "pixie-ish" pilot of the Mets


Anyhow, let me know if you are interested.