Official Game Story:

Brian Bannister lost his third straight start and two Norwich Navigators pitchers combined to limit the Binghamton Mets to five hits as Norwich took the first game of a four-game series 7-2 at Dodd Stadium Saturday in a game delayed by rain for nearly an hour and a half in the sixth.

Norwich (40-47) got to Bannister in the first. Jamie Athas led off with a single, stole second, moved to third after Dan Ortmeier walked and Carlos Valderrama was hit by a pitch, and scored on a wild pitch for a 1-0 Navigators lead.

Athas led off the fifth by doubling to right off Bannister (9-4) and scored on Ortmeier's RBI single. After Ortmeier stole second and advanced to third on a flyout, he came home on an Eliezer Alfonzo base hit. Two batters later, A.J. LaBarbera made it 5-0 with a two-run homer.

The B-Mets (40-43) rallied in the fifth for a pair of runs. Jeff Duncan led off by drawing a walk against Merkin Valdez (5-4) and stole second. Victor Hall drove Duncan home with a double to right and Hall would later score on a wild pitch, cutting Norwich's lead to 5-2.

After play resumed, the Navigators tacked on two more insurance runs in the eighth against B-Mets reliever Matt Lindstrom with Julio Cordido drawing a bases-loaded walk and Fred Lewis bringing another run home with a groundout to first. Norwich's Matt Palmer relieved Valdez after the stoppage and pitched the final 3 2/3 innings for his first save.
-------------------------------------------------

Seawolf Game Notes:

Brian Bannister was awful. I watched him warming up; he had to keep apologizing to Joe Hietpas, because he was bouncing balls all over the place. He threw two wild pitches in the first inning (the game story above calls it a SB for Athas, but it wasn't), scoring a run (I originally scored the first one a PB, but when he threw the second one, I went back and changed it). In the third, they smacked him all over the park, including a looooong home run. Every ball was hit hard.

The Mets threatened in the fifth, so they pulled Bannister for a PH, but they only picked up two.

Then the rains came. It monsooned for about ten minutes, but the grounds crew couldn't get the tarp on the field. They pulled it out, but started unrolling it too far in right field, so it didn't cover the whole field. So they tried to fold it back up and re-do it, but by that point, the rain was stopping, and the damage was done. A ten-minute rainstorm turned into a 90-minute rain delay while the grounds crew remade the field.

We had to catch a 6:00 ferry, so we had to bolt after the delay, causing me to miss my adoptee, Matt Lindstrom, pitching in relief. We listened to the game on the radio the rest of the way; Lindstrom got punked by an error by 2B Aarom Baldiris on a double-play grounder, which eventually led to two unearned insurance runs.

I forgot to take any action photos, but I have a lot of inaction photos, plus a short digital video of Bannister warming up (about 8 MB - if anyone wants to host it, let me know).



Brian Bannister in the bullpen



OFs Victor Hall and Wayne Lydon stretch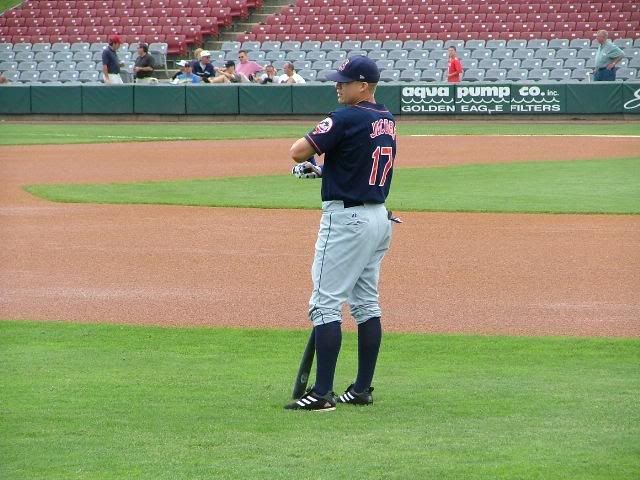 1B Mike Jacobs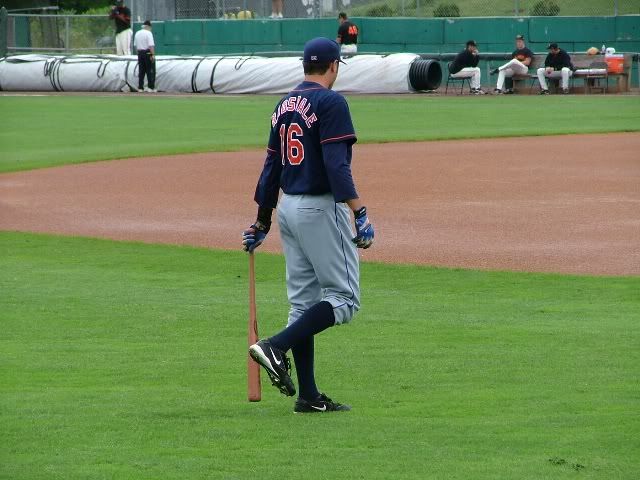 2B Corey Ragsdale



3B David Bacani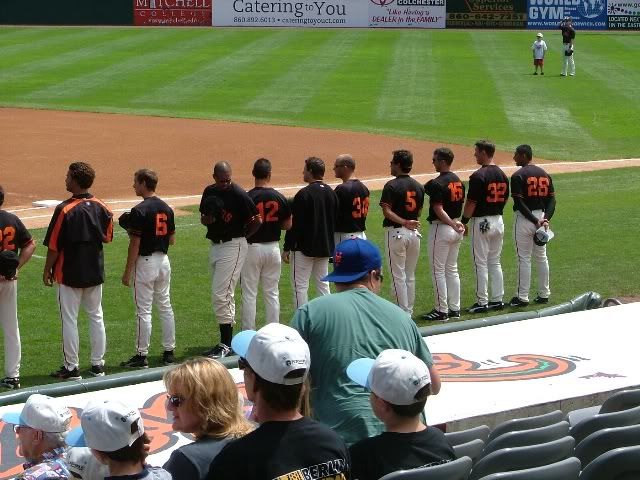 Minor league baseball at its finest. Note that the Gators use two different styles of numbering on the back of the jerseys.



The scouts were out in force; here they're gunning Merkin Valdez.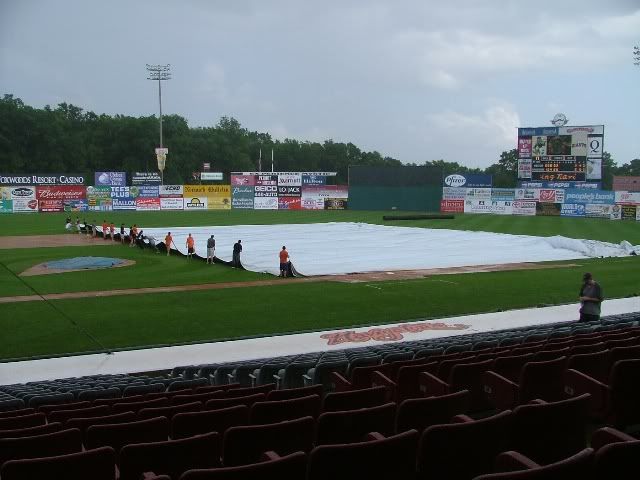 The monsoons. Note how they started the tarp way out in right field, and as a result, it didn't cover the infield.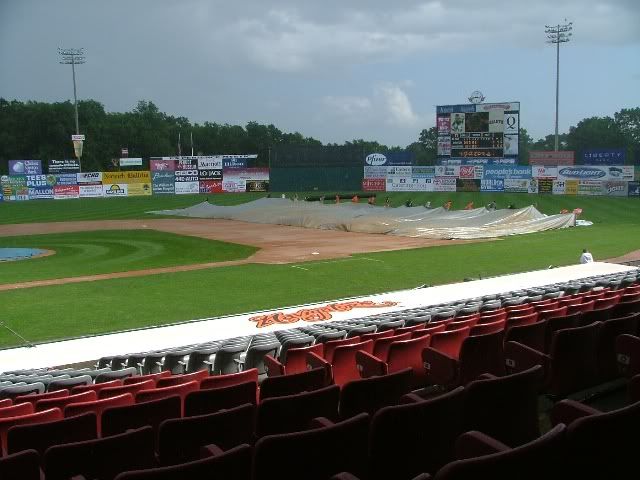 Do-over.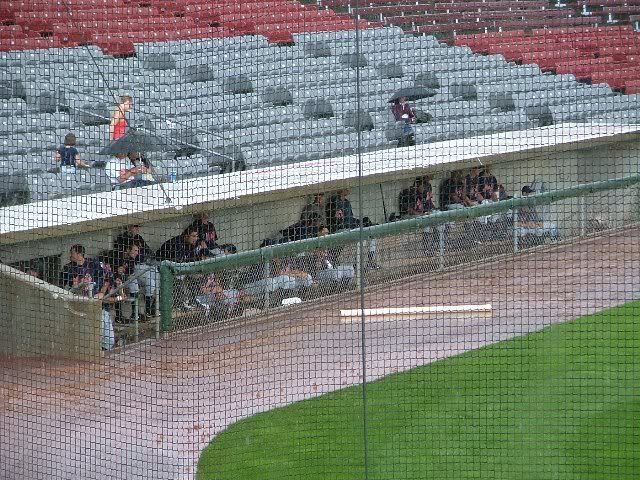 The B-Mets are not impressed.



Finally, the sun comes out again. Sewaolf adoptee Matt Lindstrom (facing away) exits the dugout to head down and warm up. Note Mike Jacobs (far right) hanging out with fans.